74% of Consumers Prefer Texting with Businesses if a Real Person is Texting Back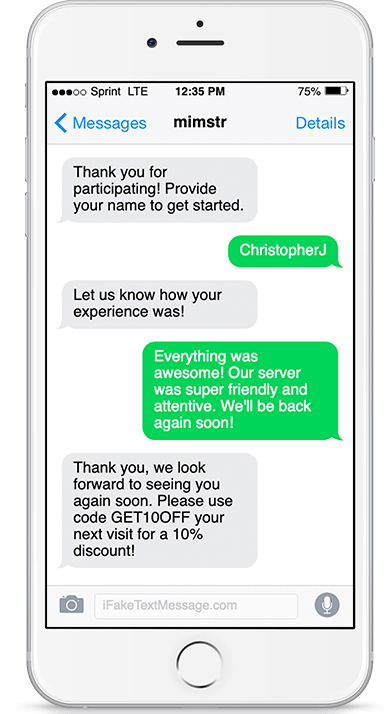 Communicate with your customers the way they prefer – through text!
Be faster than your competition.  Don't make customers wait on the phone
Texting is one of the quickest ways to communicate.
On average, texts are read in 5 seconds of being sent. Now that's fast!
Keep it simple. No more call routing and choosing options.
Giving your clients the option to text is like giving them a monkey. Everyone likes a monkey.
mimstr can integrate easily with your current Chat, CRM and Ticketing system.
Our REST API can integrate into any tool your business currently uses.
TEXT #mimstr
to (480) 771-8808
Mimstr is a multi-service SMS platform designed for all of your small business customer engagement needs.
Setup your business on mimstr in minutes.  Literally.
You can use the mimstr website, or integrate into your existing tools through our API to keep user experience the same.
Mimstr messages are sent and received like any other text message.
If you can text, you can Mimstr.
Since integrating mimstr into our recruiting process, we have seen a significant reduction in the time and effort it takes to recruit a clinical study. With mimstr, we can provide all relevant information in one quick, easy text and then the participants call us! Definitely a time saver!